We're out to

outsmart superbugs.
Help us build something special.
Working at Pattern is a rare opportunity to build something meaningful and lasting for all of humanity.
That's a pretty bold statement. However, when you consider that 700,000 people die from drug-resistant bacterial infections worldwide every year, the threat of drug resistance presents one of the greatest challenges and opportunities of our time.
We're building a dream team of scientists and visionaries dedicated to solving this global problem with faster, smarter diagnostics for more precise treatment. You'll work alongside managers who know the ropes at the FDA and have already developed multiple diagnostics platforms. They also make a mean chimichurri.
If you're ready to make a contribution to the world and have fun doing it, this is the place for you.
We believe that business as usual won't cut it in a world of rapidly evolving microbes.
That's why we're committed to building a well-run, sustainable company that's also a great place to work. At Pattern, we talk openly. Ask questions. Discuss our decisions over an ice-cold beverage. Experience tells us that a diversity of perspectives has a direct and positive impact on a company's bottom line. We're committed to a clear set of values and making a difference every single day.
Keeping a light-hearted and fun atmosphere on the job is the only way we can do the important work of fighting global drug resistance. We recognize that innovation and excellence are driven not only by rapid iteration and hard work, but also by friendship, mentoring and continuous learning for our employees.
Come check us out. You'll meet our team of scientists, engineers, athletes, musicians, film buffs—the kind of people who thrive in the vibrant culture of Austin, Texas.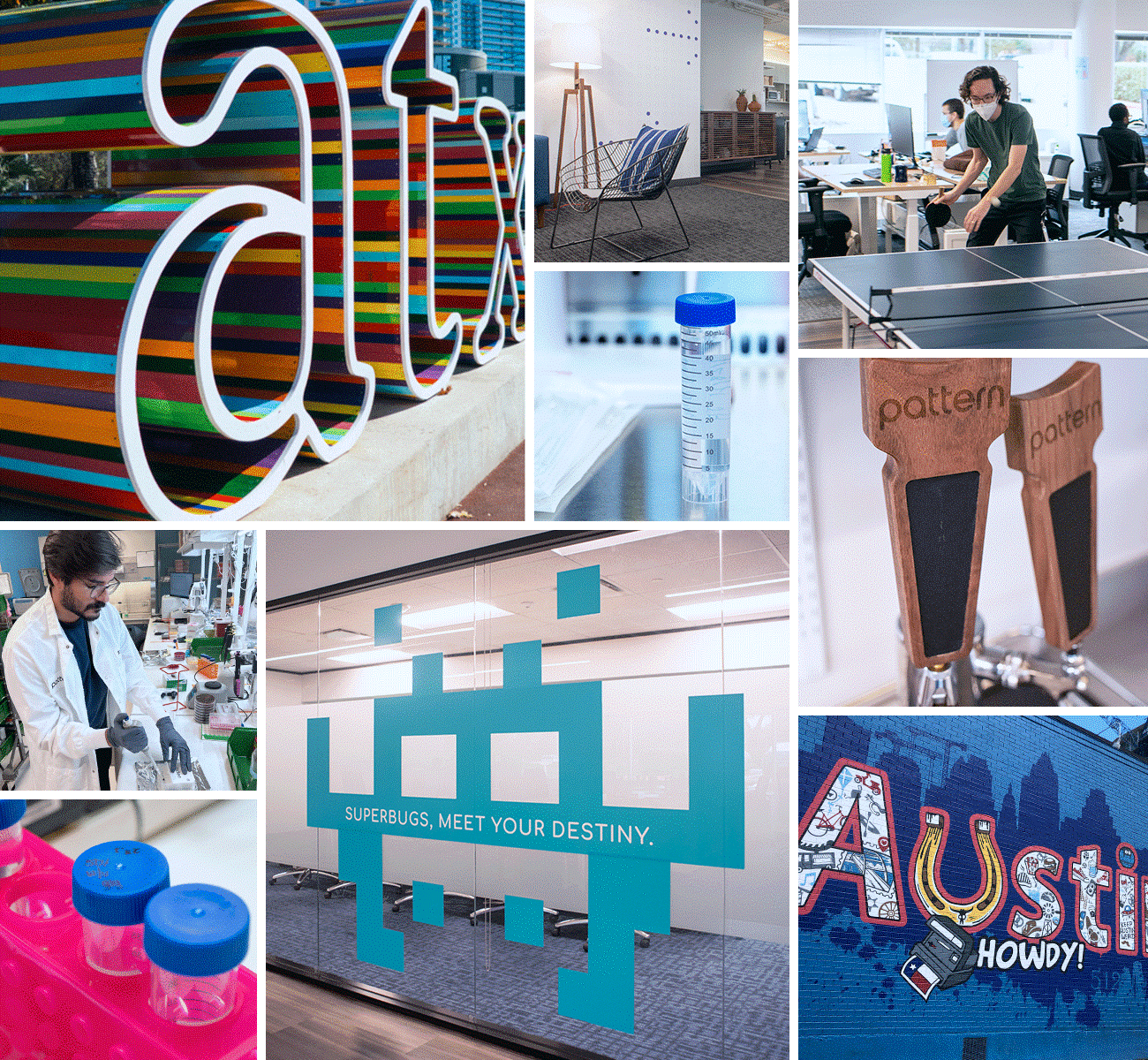 "I'm here to tackle an important and challenging problem; work with creative and thoughtful individuals; and help grow a company that makes a difference for employees and patients, alike."
Dave Bussian, Research & Development
"I enjoy the open and encouraged collaboration happening daily. Everyone is completely willing to assist in troubleshooting or to discuss problems and ideas."
Clare Burke, Biomedical Engineer
"Our technology and product vision are ambitious–we're working on something that's never been done before.  And it's really satisfying to know that the product is going to help a lot of people."
Kyle Fieleke, Marketing